Request a Presentation
Building a culture of Life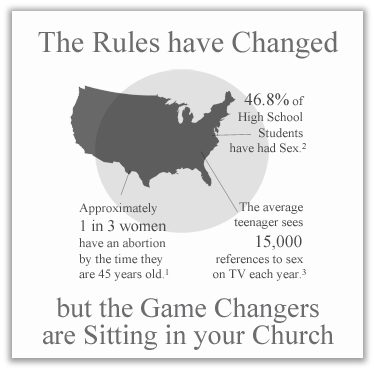 Together we can equip and inspire a generation to build a culture of life.
Let's Get Started.
Life | Values | Integrity
Some issues just aren't as easy to discuss as others. The sanctity of human life and sexual integrity can often be difficult to address. They can be profound. They can be sensitive. They can even be personal. We can help. Thirty years of experience defending life and encouraging sexual values have taught us that these topics need to be talked about with gentleness and truth. Our speakers will bring compassionate and effective presentations to your group. Schedule a program that will educate and inspire. Together we can turn this generation around and build a culture of life.
Choose from these three Powerful Presentations:
A Legacy of Life: Some of the most important issues can be the most difficult to address. Unfortunately, most young people have never known a time when abortion wasn't accepted as a solution to their social and economic difficulties. The value of life within the womb can be a foreign concept to some yet scripture demonstrates how God loves the unborn. Building a legacy of life begins by sharing this simple truth. Through personal testimonies and a sensitive approach, our speakers will bring a powerful sanctity of human life message and challenge the hearts of all who hear.
A Legacy of Values: If Christian parents are not talking to their young kids about sex, someone else is. And they are getting it all wrong! Traci Lester, the author of Teaching the Birds and the Bees without the Butterflies, brings a motivating presentation designed for parents of children ages 1-12. With humor and engaging personal stories, Traci provides encouragement and practical tools to address the sensitive issue of sex with confidence. Parents will learn ways to impart sexual values that will last a lifetime.
A Legacy of Integrity: The dominant influence of the media and social pressures leave many teens confused about how to handle their sexuality. Because of this, some are making careless and dangerous choices which often lead to disastrous consequences. Others are facing pressures they aren't prepared to handle. Even still there are many honorable young people who are committed to maintaining sexual integrity and can have a large influence on their peers. We offer an interactive and powerful presentation which brings a gospel-centered message of God's plan for sex. Sexual integrity isn't about behavior modification but total heart transformation.